Fantasy Tan in the Media
Spray Tanning & Fantasy Tan
Have Been Featured In Dozens Of Leading Health &
Beauty Magazines, TV shows, and websites...
Fantasy Tan is leading the way in the world of professional spray tanning. Not only have our products been featured in dozens of leading magazines, we've also been featured on several TV programs. Please browse through the magazines below, or feel free to watch some videos. Enjoy!
Magazine Articles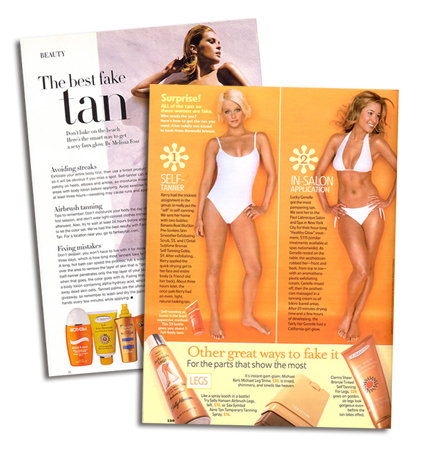 Click here to view our magazine gallery.
Videos
Dancing With the Stars
The Montel Williams Show
Fantasy Tan Has Been Featured
in the Following Publications:
Harper's Bazaar
Allure
Cosmopolitan
Good Housekeeping
Harpers & Queen
In Style Wedding
Vanity Fair
Lucky
La Guia
Modern Bride
Quest
The Wall Street Journal
USA Today
Romantic Destinations
Southern Bride
USA Weekend
and more...